Presentation
I have created the website Gemfrance.com in 2002 after 15 years of activity as a gemstones trader and jeweler after several years of teaching geology in Universities and Graduate Schools.
For love of beauty and because of my scientific background (PhD in geology), I am very strict in my selection of all the gemstones that I propose for sale: precious and semi precious gemstones, gems for collectors, as for investment.
I always select the gemstones for their purity, rarity and cutting. Many of the single stones bought are recut to obtain the best. As our rule "Only the finest"
This research requires many gem trips to provide to you the excellence.
During all my travels, I stay awake on the beauty of the Nature Mother, but also on its miseries, its contradictions. You can see what is my eye on this world with my non gemological pictures on this website.

As a jeweler I offer the opportunity to create "the jewel that looks like you."
All my jewels are unique, as you. All are handmade in the tradition of the French "Haute Joaillerie".
For selecting the gemstones, for creating your jewel, for helping you for an investment, I am focus by my love for trying harder to offer the best.
I always will be at your side to advise you. Your pleasure will be mine.
30 years traveling all around the world in search of the excellence, to share this pleasure.
Yet a long story:
The beginnings of our adventure in the world of gems :
I began my professional career teaching geology in Universities before my the end of my PhD in 1982. And then I have spent three years in Morocco, in Casablanca, teaching geology at the Mohamed V University.
Back in France, I started trading in 1986 by selling mineralogical and fossils specimens in mineral shows all coming from Morocco.
Then, after have been the opportunity to sale all my inventory of minerals and fossils, I began to trade in gemstones in 1989.
In March 1989, I specialized in the trading of gemstones and precious stones.
I started with a very small booth, only one meter, with a second hand show case and a selections of citrines, amethysts, garnets, peridots, blue topazs, aquamarines, peridots, so, the basic stones. All these gemstones was bought from other dealers selling in the same shows than me. But from the begining until now, I have never bought by lots, I have always respected my policy "only the finest", so a hard selection. No lots at a best price but with some ugly stones.
After my first year, after good results, my bank helped me for my first wholesale purchase in Bangkok.
My scientist level was helping me to avoid many pitfalls and to select "only the finest". But it was not enough to be a good buyer. For this we need to learn the market, to know what the customers are waiting for, to know the rules on the gem market and of course to know the correct prices for buying.
A dealer, supposed to be a friend, offered his help in during my first travel in Thailand and my first steps in the gem market. But he has given to me only bad advices. He only hoped to kill my business at the beginning. As, I say... I have paid to learn, but this first trip was not a good school.
The next years was very difficult. During the second year I had a very big rubbery in Paris. I lost almost all. It took 6 years of a very hard job to pay all my suppliers and the bank. But I have always increase my business, year after year from the beginning to know and proud to have done a good education to my five children.
From 24 exhibitions per year, I have reduce to only two exhibitions per year in Tokyo and some time one in Paris. Before, it was every year Tokyo, Paris, Honk Kong, Tucson, Sainte Marie Aux Mines, München, and many gem shows in France.
I have concentrate my business in 2002 on my website Gemfrance.com.
Very quickly Gemfrance.com had a leadership on internet. And with my pleasure to teach, I have att his tile created the encyclopedia of gems.
This new website has more: the encyclopedia of the jewelers.
Why « Gemfrance » ?
I have associate " gem" and "France". And GEMFRANCE sounds in French like "J'aime la France" (I Love France).
And it was also in memory of my migrant family who had taken the decision to be French.
Every year, since the beginning the Gemfrance company had grown, despite many difficulties as three robberies, a lot of conflicts against the customs, the tax office, and more (allways winner!).
But in the same way it was so good to discover so many countries with a lot of every time more friends all around the world.
50 years of practicing martial arts (judo and aikido) has given to me a state of mind of respect, rigor, search of excellence. The excellence is not a fact but a way.
So, in 2017 it is the beginning of a new adventure with this new website.
The jewelry :
Since I was very young, educated in the love of the beauty, I had always been in admiration of the high jewelry. And always with a high respect of the designers.
It is a real pleasure to design unique pieces of jewelry. All are credone in French workshop in the standard of the French High Jewelry.
Each jewels done are unique, like you.
The travels :
My first gemological trip was in Thailand in 1990.
In order to offer the finest quality in gemstones iI must to often visit the different countries from where the gems are mined, at the source. But Bangkok is a fine place to see nice stones from all around the world, if you have the good connections.
I never buy lots. I select only the best quality. And even the cheapest stones, as for example blue topaz, must be selected to offer to my customers only the finest.
And for the stones of high value, you must be at the right time at the right place.
Bangkok is also a good place to cut or recut gemstones. Many stones bought on the gem markets are cut to keep a high weight. I prefer to lose weight and recut perfectly those ones to enhance their beauty.
Since 1990 I have been in Bangkok several time per year. It is still the main hub of the trading of fine stones, precious gemstones and gems for collectors.
And also since 1990 it is a travel per year in Tucson, Arizona - USA at the biggest gem and mineral show in the world. I have exhibited there until 2015. And it is the best place to see all the varieties of gemstones available in the world and the opportunity to meet again how good friends from our same village, our Mother Earth.
As a gem hunter I have mainly traveled in Vietnam, Sri Lanka, Myanmar.
Since 15 years I participate at two show in Japan, in Tokyo. It is not only for the show, but also to have the opportunity to train with the masters in Aikido every morning at the 6:30 am course, before opening my booth.
I have stopped the Hong Kong show in 2014. I had a better busines outside my booth than inside...
But one of my best memories is my travel for a real adventure. It was a geological trip in the south of Venezuela, in the rain forest, not far from the Brazil boundary. We was looking for a kimberlite.
The kimberlite is the rock (previously the lava) from where the diamonds are coming. Two entire weeks, six men in the rain forest without any assistance.
All my trips always have a professinnal purpose but my way is always to disover othee people, other cultures... the human first!
All these trips are necessary to keep a high level of relationship with our suppliers, ad many times more friends than suppliers.
Sometimes no time for some adding fun or holidays. For example this travel in 2013:
Day 1: arriving in Bangkok
Day 2: fly Bangkok - Hanoi
Day 3: travelling all the day by road to the north of Vietnam to visit the mines in the Luc Yen area
Day 4: early in the morning the gem market in Luc Yen, visiting some more mines and suppliers, going back by road to Hanoi, by night
Day 5: going back to Bangkok with a lot of suppliers and friends to visit
Day 6 morning: flying back to France
During all these trips I take some pictures to share how I see the world and the people.
The future :
No one is eternal and the future will one day to think to give the relay after having doing the show. This company has been built alone, from nothing except some minerals and fossils coming from Morocco. No personal fortune, but the rigor and righteousness.
Now my company has a high value inventory, a good reputation and one of the finest gem website.
The new Gemfrance website is built with the latest standards of the online commerce. It offers an easy use, responsive with all the sizes of supports, computers tablets, phones?
All is done for the pleasure of our many loyal customers and to attract other ones.
And we are open to any comments or requests!
The competition :
The development if the gem trade on internet has seen the emergence of many websites selling gems where you kind find the best and the worst (as on EBay...).
Many websites offer no guaranty about the quality about what they sale. I have to say that many are in this trade as gambling. Take care. Check the reputation, check the legal informations on the websites (if you can find it). And do not have the temptation to supply contreband...
I have seen so many dealers for example always offering the same false 50% discount all the years, in all the shows or on internet. And you have also to be sure that your supplier as an ethic attitude in the gemtrade, repspecting the people at each level, respecting the laws, paying the duties. It is also your guaranty to not have some bad surprise at the end.
We guaranty that all our gemstones, gems for collectors, golden nuggets are bought legally and that we have paid all our duties to the customs.
We confirm also that all our diamonds respect the Kimberley process.
And in this competition between the websites selling gemstones I can recommend to other websites (adding mine...), from France
- frediani.fr . This website was built by Didier Frediani gem dealer after his father Claude;
- Gems-plus.com built by Thierry Pradat
We do not have the same taste in what we want to sale. So it is good for the customers. I can say that we our three websites in France you can find almost all the different available kind of gemstones for the jewelry and for the collectors.
We have different sources, different suppliers, different personalities but a same ethics..In us you can trust.
Certainly they are also some other good websites, but I can only speak about which I well known.
A last tip:
I am often solicited by people who want to try this adventure in the gem trade business. My main advice is "10 years to have a good reputation, 10 minutes to lose it".
A note of humor:
Never forget that happen in Paris in 2015 January, with "Charlie Hebdo". At this time all the world was "Charlie".
Thanks to a friend, Michel GESLIN having done this nice caricature. We claim even more the right to the caricature and derision...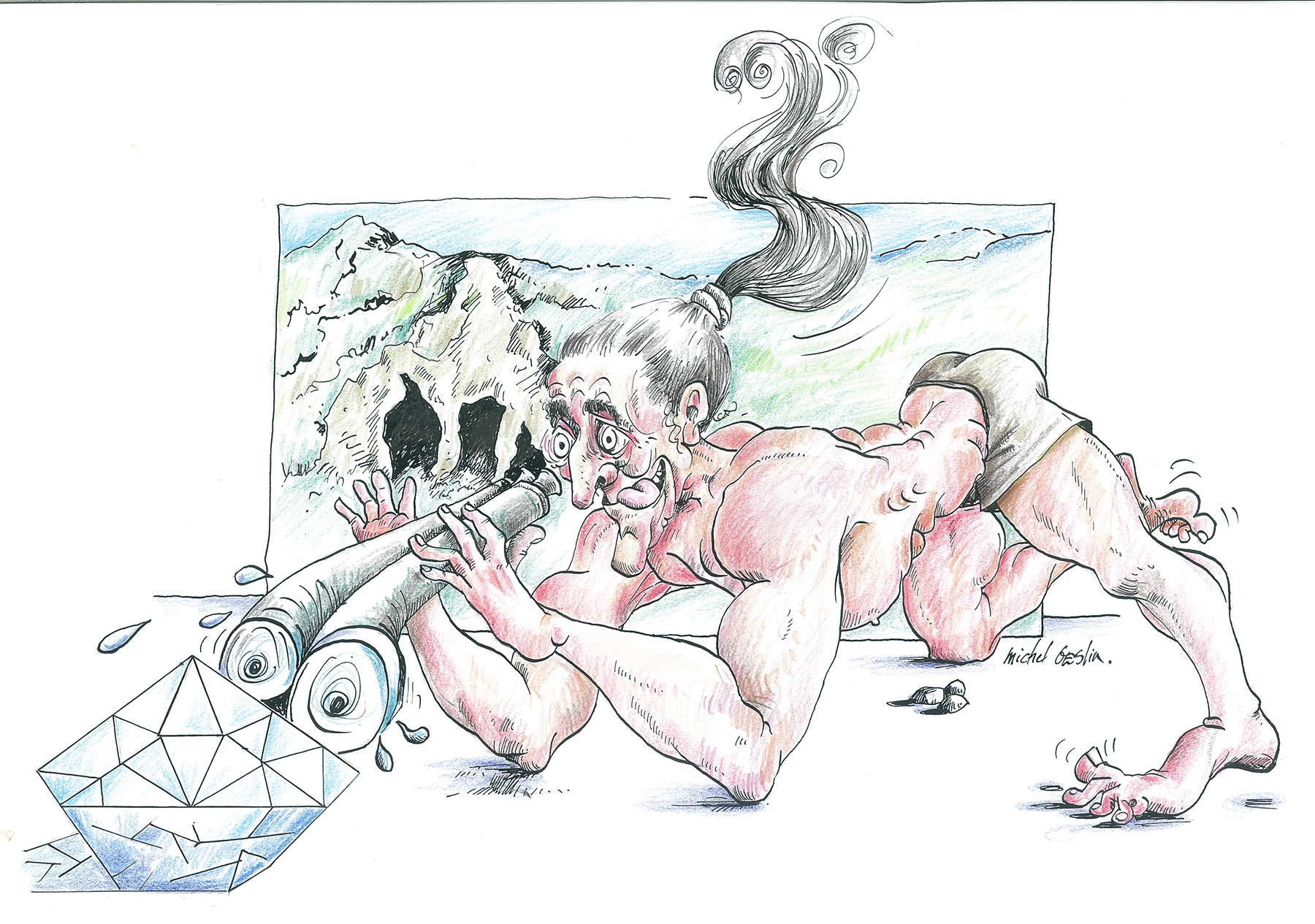 Dr. Laurent SIKIRDJI